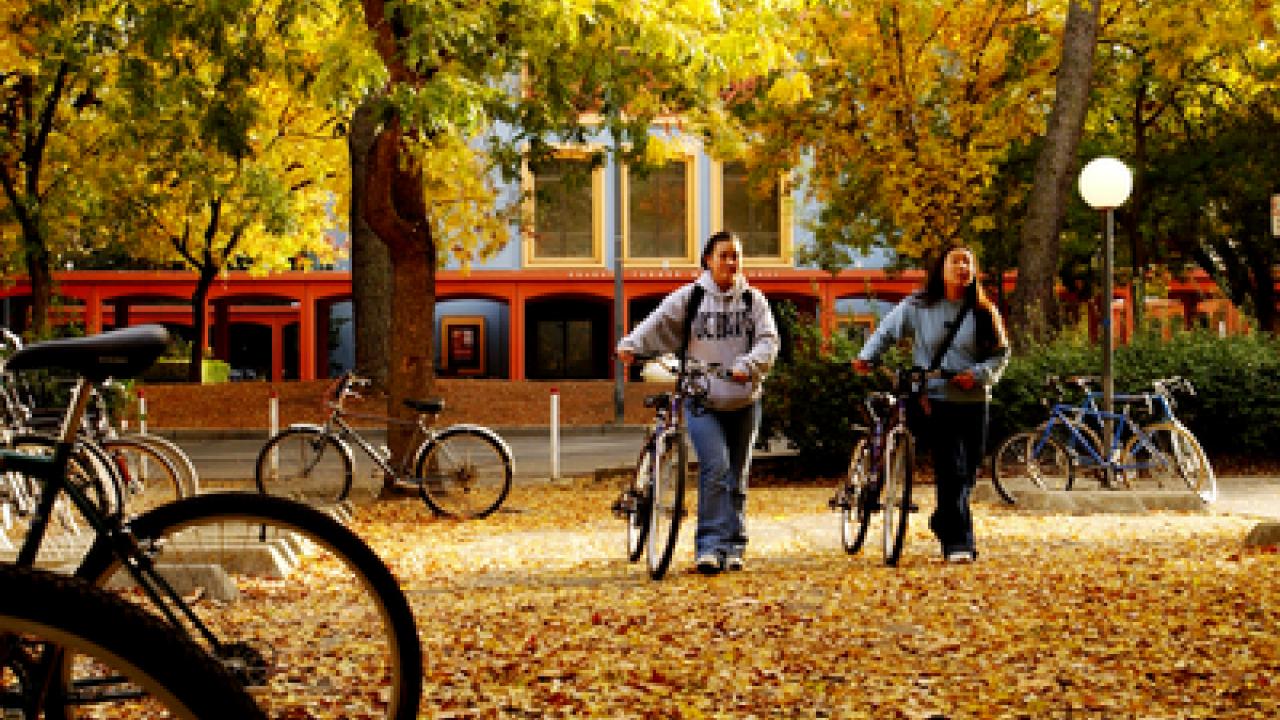 Good morning, and welcome, all!
This is a milestone event for many in this hall, and I'm honored to be a part of it.
Chancellor May very much wanted to be here as well, but he had a previous commitment—one made, in effect, a couple of decades ago. He and Leshelle are in Indiana watching their elder daughter graduate from Purdue. It's a very big day for the May family. The Chancellor wanted to make sure, however, that I conveyed his warm congratulations and very best wishes to the new graduates.
I second his message, and also congratulate the parents and other family members in our audience. Your student would not be here today if not for all you've done to support her or his success for many years. Today's ceremony celebrates your achievement, too.
I think this would be good time to give both our graduating students and their parents a big round of applause!
Does UC Davis exist? Do Aggies?
I would now like to speak directly to the about-to-be graduates.
All of you know that thinking too much can be dangerous. This may be my best excuse for coming up with the topic for this address. One thought led to another, and I ended up where I am now—about to call into question a comfortable notion you have about the university from which, in a matter of moments, you will receive a diploma.
If you're thinking that this is an unusual goal for my address—well, I can't disagree. As conventional wisdom tells us, commencement is probably not the best time to burden the graduating class with existential doubt.
But I'm getting ahead of myself. Let me back up a little.
When I first began to think about what I might say to you, I knew almost immediately that I wanted to comment on a particular feature that makes Fall Commencement unique: unlike the many ceremonies held in the spring, this one awards degrees across the full range of disciplines and professions.
There is a tremendous upside here. You and I can look around this hall and see representatives of the entire scope of UC Davis work—more or less a microcosm of our university. Or for those of you who tend to be more excited by technology than people, think of our gathering today as a very large microchip. One way or another, there is something decidedly "cool" about Fall Commencement.  
Back to my story. I had a good beginning, but it wasn't long before I was reminded of former UC President Clark Kerr, whose vision is still guiding the University of California a half century later. President Kerr argued that the modern American research university, a category that included UC, could not be understood as a single institution. Rather, it was a combination of many different ambitious enterprises being pursued across many colleges, professional schools, and departments. Because of this multiplicity of disciplines, President Kerr suggested replacing the term "university" with "multiversity."
I imagine that many of you find President Kerr's view encouraging. Surely, one can be proud of graduating from an institution that is widely renowned to be strong in so many fields. In fact, UC Davis is the prime example of Kerr's "multiversity" in the UC system, for we pursue teaching and research in more disciplines and professions than any of our sibling campuses.
But here's the rub. If a university does so many different things, and is in large part defined by difference, does it make sense to think of it as a single institution? Is there a coherent entity behind the name "UC Davis"—or "Aggies," for that matter?
These questions may strike some of you as merely clever. But I'm not sure they're so easy to dismiss.
From your time here, you know as well as anyone how much focus, energy, and time it takes to complete the educational requirements in your field—even more to do exceptional work. The same goes for the teaching and research being performed by our faculty. This means that, in a physical sense, we are all working side by side on our Davis and Sacramento campuses; but in an intellectual sense it's as if every morning, in accord with our different disciplines, we commute by rocket ship to different universes and then disperse ourselves on different planets. In certain cases—for example, my own field of ancient Greek and Roman literature—I suppose we're talking about occupying obscure moons, or maybe even tiny asteroids, in the farthest reaches of desolate space.
Thank goodness that, when we are off duty, as it were, we can all come together again! Or can we?
Consider the following hypothetical. You and I suddenly decide that, as important as this ceremony is, we'd all rather take a relaxing drive and visit some of the vineyards near campus—we choose to stay close to home because, after all, we don't want our outing to interfere with the celebrations scheduled for later. So we make our apologies to family, friends, and distinguished faculty, and we all hastily pile into my car and set out. At one point, we stop to admire an especially picturesque view. Have we finally escaped our disciplinary differences?
Probably not. It's more likely that the things we spend so much time studying will continue to shape our thoughts, even on this once-in-a-lifetime field trip. We might all begin by agreeing that the rows of grapevines we are looking at are beautiful and calming. After that, we would likely go our separate ways. Those, for example, in Viticulture and Oenology, or other departments in CA&ES, might ponder new scientific advances in grape growing and wine making, while those in economics or the School of Management might find themselves thinking about the economic impact of agriculture in our region.
Depending on their field, other members of our group might be immersed in:
Confucian ideas about food;
Beethoven's "Pastoral" symphony;
The legal, medical, or other challenges faced by immigrant agricultural workers;
Georgia O'Keefe's paintings of flowers and cow skulls;
The aerodynamics of bee flight;
The politics of Central Valley water management;
The moment in Homer's Odyssey when the presumed-dead Odysseus surprises his father, Laertes, in his vineyard;
And so on.
Of course, those of you in transportation studies, or theoretical physics, would likely never notice the picturesque view before us at all—you would never get past trying to figure out how the entire group of fall graduates could fit in my rather small car.
What we have in common
The disciplinary divisions of the modern university, and the related power dynamics and clashes of priorities, cannot be wished away. Nor can their larger effects. Speaking about the country's conflicting positions on slavery in the mid–nineteenth century, Abraham Lincoln famously said, "A house divided cannot stand." It's worth considering in what sense a university divided can stand. More significantly, we would do well to consider what our universities, with all their divisions, effectively stand for. Given the immensely important role they play in shaping our world, our society, and individual lives, this question deserves our serious and continued attention.
And yet . . . let's wait a bit before deciding to remove the words "UC Davis" or "Aggies" from our sweatshirts.
A university, unlike a trade school or a certificate program, is defined by—and cannot exist as a university—without disciplinary diversity. There are multiple reasons for this, but the fundamental one, I believe, is that a university is designed to be responsive to the world and to human needs. We recognize that the collected contributions of all disciplines and professions are a more adequate response to the world and human needs than the contributions of any one discipline. They bring us different pieces of the larger puzzle. In addition, strategically bringing together what we see through multiple perspectives is our best chance of finding the best solutions to complex real-world problems, and creating the type of world we want.
This is why UC Davis, like all great universities, aspires to excellence in a wide array of disciplines, encourages multidisciplinary approaches to specific problems, and insists that all of our students, no matter their major, acquire a broad foundation of knowledge and skills.
So—getting back to the large question of whether UC Davis and Aggies really exist—the first thing I would have you understand is that all members of our community, however different our work, are connected by virtue of our participation in that larger project of shedding light as far, as widely, and as deeply as possible. After all, our UC motto doesn't say, "Shed light on chemistry, or psychology, or the performing arts. It says, simply, "Let There Be Light."
There are also other important things that connect us and unify our university.
We pursue our studies, research, and public service according to a common way of thinking and acting whose precise recipe is uniquely ours.
We have a shared commitment to excellence; a passion for intellectual discovery; a reverence for the values of altruism, honesty, consideration, and respect; and a desire and feeling of responsibility to help solve urgent global problems. We have also a mindset that is less common in the world than one might expect: we attempt to answer questions and solve problems by means of reliable information, critical thinking, and careful discernment—in other words, good judgment.
Then there are the many things that no other university shares with us. No one outside of our community has precisely our experiences in the classroom and lab; our discussions about Socrates or the proper role of the federal government; our Central Valley location; our Arboretum or Manetti Shrem art museum; or the thousands of other things that make our university what it is.
I have one more point along these lines.
The fact that all of us work alongside so many others who are in different fields means that we are constantly reminded that reality is always highly complex and difficult to understand. Indeed, this is demonstrated to us every day. I hope our hypothetical vineyard tour is still fresh in your mind, for it may help to convey an important truth. The particular perspectives that each one of us brings to the world, the very thoughts we have, are enriched by the fact that our companions have different perspectives and thoughts—because, sooner or later, in some form, they find their way into our thinking, as well. By processes straightforward or mysterious, we are taught every day that all questions have many aspects, and we are cautioned that we need to approach with a healthy skepticism all ideas and solutions that are simple and easily found.
Our mindfulness of the world's complexity, and our habit of approaching it through informed and rational thought, are, in my view, among the most important things we have in common. They are qualities that make ours a true university, a universe rather than independent planets.  
Conclusion—UC Davis and who you are
In large part thanks to your time at UC Davis, you view the world through the lens of your major field of study, and at the same time through many disciplinary lenses. This is one way that your experience here has powerfully shaped who you are, both intellectually and ethically. What you've gained with us will continue to propel and guide you for the rest of your life—whether you are conscious of it or not. This may sound constrictive to some of you, but I don't think it should. As a UC Davis graduate, you are well equipped to find and travel your own path. You have the personal resources to succeed and thrive, and make a positive impact on others, in society, your profession, your circle of family and friends, and any other universes you choose to inhabit.
Again, to all of the fall graduates, my hearty congratulations and best wishes for the future!
Category
Tags