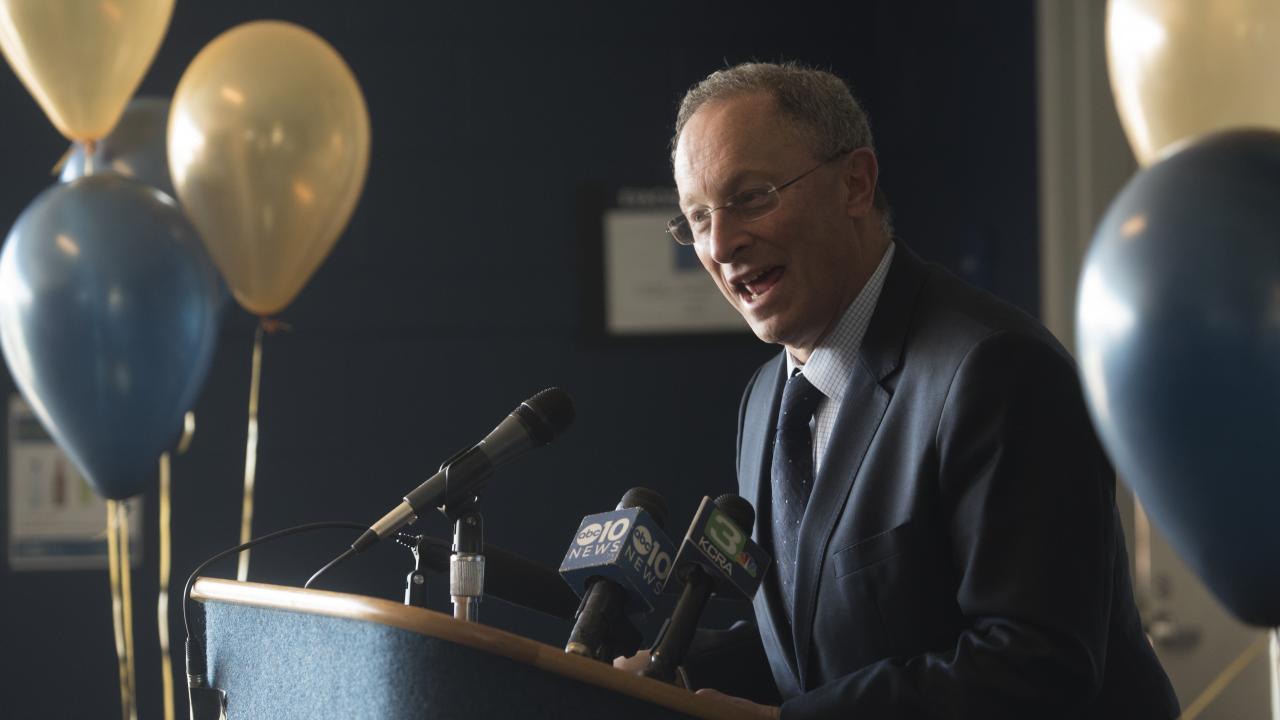 Remarks given at the 2018 Academic Retirees and Emeriti Luncheon 
Good afternoon, everyone. I'm Provost Ralph Hexter, and I'm delighted to be here today. I have the privilege of conveying the university's gratitude to you, our new academic retirees and emeriti, for your exceptional service to UC Davis. At the same time—and this seems nearly as important—I have the opportunity to share lunch and conversation with some of the most distinguished and luminous members of our university family. Being near this degree of celebrity usually requires a winning bid at a charity auction.
But who knows? Perhaps our development folks will devise something of that sort in the near future—so be sure to check your emails and texts frequently. 
I would be remiss if I didn't acknowledge that, for those of us who remain, the happiness of this celebration is accompanied by a measure of sadness over your departure. There are precedents for our feeling of loss—I give you a few fictional ones, but only to better express the truth.
 The Greek king Menelaus had to deal with the unwelcome fact that his wife, Helen, had sailed off with Paris, a handsome Trojan prince.
Madame Ranevskaya, the aristocratic landowner in the famous Chekhov play, dreaded the thought of losing her beloved cherry orchard. 
And, of course, in the film Casablanca, Rick had a hard time letting Ilsa return to her life with Victor, a leader of the Czech resistance. 
Unfortunately, the first two precedents have no help to offer us. Even if it were deemed a good idea, UC Davis does not have a thousand ships to convey warriors to Troy to bring our retirees and emeriti back to campus. And Madame Ranevskaya's obstinate refusal to let go of her beloved cherry trees ended in calamity. 
But Casablanca does contain some useful wisdom. Those of us who will continue in our posts must accept that your departure, as difficult as it will be, is the right thing for you. And there is this consolation. We believe that today's luncheon will be the beginning of a new phase in what has already been a "beautiful friendship."  
I know you are all eager for the presentation of this year's Distinguished Emeriti Award and Dickson Professorship Award. So let me set the stage by sharing some thoughts about what you have meant to UC Davis, and then giving a brief campus update.
When we think of a university, often the first thought that comes to mind is of an institutional reputation or character, one or more programs of special excellence, or perhaps a physical campus with beautiful landscaping and iconic buildings.  
As important as all of these things are, it is actually the unique group of people working and studying together on a campus that most defines and shapes an institution. Every member of a campus community contributes to the institution in myriad ways—and yet, I don't believe I am being unfair when I say that those who work on the academic side lie closest to the heart of a university's greatness. For nothing is so central to a university's mission, or better embodies its unique virtues, or makes a greater positive impact on the world than faculty teaching and research.
This is why all of you, by virtue of your long and distinguished service to the university, are both architects and cornerstones of what UC Davis is today.
I understand that this group is, by nature, indifferent to public accolades, and quite likely also impatient with them. Your passion is for your work, not praise. This is but one of the hallmarks of the cultivated and noble mind. But what you have given to UC Davis is too important a subject not to extol in at least some detail. So, at the risk of trying your patience, and also waxing poetic, let me count the ways.
Your deep knowledge and expertise in your respective fields is but the familiar beginning of the story. You've deployed them with unflagging professionalism, a dedication to serving your department and institution, and a true belief in the unique role that UC Davis plays in improving lives and society.
Through your work, you've performed the many responsibilities of your positions with both excellence and effectiveness. In so doing, you've also created an example for others to follow—as well as a tall shadow and big shoes to fill.
You've not only passed on to your colleagues institutional knowledge and memory. You've also helped them to learn essential elements of our university's character, values, and vision. As a result, you will keep contributing through those who have learned from you for a very long time.
I realize that I have just described a sort of miraculous mechanism in which you no longer have to work to keep contributing. Alas, I must warn you that you're not entirely off the hook. Don't be surprised if, from time to time, someone calls to ask for your wise counsel or expert assistance on some project. Perhaps you will even be contacted to accept a critical part-time position on recall. We hope you will be able to pitch in, as needed. But whether you are able to or not, we know that, wherever you are and whatever you are doing, you will inevitably remain excellent ambassadors for UC Davis.
If you are like your predecessors, you will remain busy and productive. UC academic retirees collectively volunteer countless hours on campus and in their local community; they are also generous with financial support, intramural and extramural.
You may be interested to learn that, in 2015, Professor Emeritus John Vohs helped develop a University of California Emeriti survey. The survey was distributed and completed by emeriti at every UC Campus and provided an inventory of emeriti activities. The survey results demonstrated that the combined efforts of UC emeriti in the areas of publishing, research, and teaching would equal the work of an Eleventh Campus.
A similar survey has been completed by UC retirees, and we look forward to sharing its results soon.
Please forgive me for singing your praises at such length. It had to be done on an occasion such as this—and it was also necessary to prepare us for what is my main message today. For the many reasons I've cited, it is my honor to extend to all of you the university's deep gratitude for your distinguished and generous service, and to deliver our best wishes for this next phase of your career. Please give yourselves a well-earned round of applause.
Let me turn now to my selective campus update. 
As everyone here is all too aware, the past 12 months have been eventful and challenging ones for UC Davis.
The biggest bit of news is, of course, the arrival of Chancellor May on August 1. Not only did his appointment bring to an end an extended period of uncertainty for our campus, but his qualifications, record of achievement, vision, and dedication to diversity and inclusion will be enormous assets as we address our most pressing problems and seek to take advantage of key opportunities.
His arrival permitted yours truly to return to his first love of provosting. Provosts are in some ways like dragons. I refer less to the fire-breathing than to their love of hoards, and their deeply ingrained sense that, whatever the hoard, it should be guarded against depredations.
Which leads me to begin this part of the story with matters fiscal, which I'd like to drill into for just a minute. I'm pleased to report two pieces of very good news: we stabilized our operating budget, and we currently have no deficit in our operations. For now—for we are still facing great challenges. Each year, fixed costs rise faster than revenue growth, while state support for California students is marginal, at best.  
Like our sister UC campuses, we are doing our share, in terms of expending funds and energy, to help UC meet its pledge to significantly grow the number of California-resident undergraduates we enroll. At the same time, we face an 18% cap on enrollment of international and national students, who bring in more revenue than California-resident students. We are close to reaching that 18% ceiling, which means that there is little growth potential remaining from that revenue source.
We are coming close to completing the enrollment growth foreseen by the 2020 campus plan. To meet the needs of a larger student body, we continue to move forward with building programs for new classrooms and housing. The new 600-seat classroom, California Hall, will be complete next year; every year we renovate and upgrade blocks of existing classrooms; and we have another building with a suite of additional new classrooms in planning. On the housing front, we are engaged in what will be the most ambitious plan to add housing for our students on our campus.
But there are also other pressing needs for which we currently lack a clear source of funding: these include a substantial amount of deferred maintenance; the necessary renovation and updating of many facilities, including teaching labs and study spaces; and the creation of new research space.
Now, while fiscal challenges are a big part of the story, they are by no means all of it.
Our state's changing demographics require that we develop ways to effectively serve both a "new" student body and a "new" California. At the same time, we must continue to chart a wise course with respect to new ideas about pedagogy and even the nature and role of the public university in the 21st century.
We have also had to deal with political pressures and disruptions. UC Davis—like all of higher education and our society as a whole—has been roiled and divided by conflicting ideas of social justice, and also disagreements about what sorts of public speech are permissible or desirable on our campus. In addition, certain developments at the federal level—most notably, the threatened deportation of DACA students, and tax reforms that further threaten university budgets and student finances—have caused deep concern for the UC Davis community and cost us time, energy, and resources to develop appropriate responses.
And yet . . . 
Even in the face of all of these headwinds, our university has been, and continues to be, strong, secure, cutting-edge, and impactful. We have truly formidable intellectual and organizational resources to meet our challenges. We also have an unshakable commitment to pursuing ever-higher excellence in our mission of teaching, research, and public service.
Indeed, we are doing much more than holding our own. Thanks in large part to the individuals in this hall, we have the strength and resilience to maintain our institutional momentum and strong upward trajectory no matter what is thrown at us. That is exactly what we have been doing, and what we will continue to do in the years ahead.
Let me end this selective update by mentioning two of our most important current campus initiatives.
Strategic Plan
As I hope everyone here is already aware, the campus has embarked upon a major effort to develop a new Strategic Plan to chart the university's course in the coming years. 
I say, "the campus has embarked upon" this planning effort because, truly, this is designed to be an activity in which all members of our university family have a voice. The leadership role is being played the Strategic Plan steering committee, co-chaired by Chancellor May and Faculty Advisor to the Chancellor and Provost Ken Burtis, who greeted you from this podium earlier. In addition to the co-chairs, the committee includes a group of 19 faculty, staff, and students reflecting the diversity of units across our Davis and Sacramento campuses.
Chancellor May and Professor Burtis have asked the UC Davis community to consider a number of broad themes, including how to provide better access to California students; how to establish a diverse community that represents the demographics of the state; how to strengthen our research expertise; and how to strengthen our presence in the greater Sacramento area. 
Faculty, staff, students, alumni, donors, and friends will all be able to contribute ideas through in-person and online interactive sessions, and also by visiting the new website ToBoldlyGo@ucdavis.edu, where one can also sign up for weekly updates.
Aggie Square
The other initiative I want to make sure is on your radar is called, at least for now, "Aggie Square." Modeled after Atlanta's Tech Square, which Chancellor May helped to develop while he was at Georgia Tech, Aggie Square is envisioned as a major hub for research and innovation in Sacramento. 
The goal of the proposed project is to strengthen the university's ties with California's capital city and with the greater Sacramento region's multiple communities, including its business and innovation sectors. This new development would give our students and companies better access to one another for employment opportunities, and it would also make it easier for companies to collaborate on research with our faculty, post-docs, and graduate students.
Aggie Square is an especially exciting idea because it is imagined as a genuine urban ecosystem. Rather than an island of research labs, it would be a center that truly participates in the surrounding community by including housing, retail space, and venues for art and music. 
Chancellor May has already had discussions with Sacramento Mayor Darrell Steinberg and Sacramento business leaders on how this idea might be adapted to our region. And Mayor Steinberg has toured Atlanta's Tech Square at the Chancellor's invitation, as indeed I did soon after our new Chancellor had been named.
Clearly, there is much to consider and work out, but the ball is rolling. Stay tuned for new developments.
Category
Tags