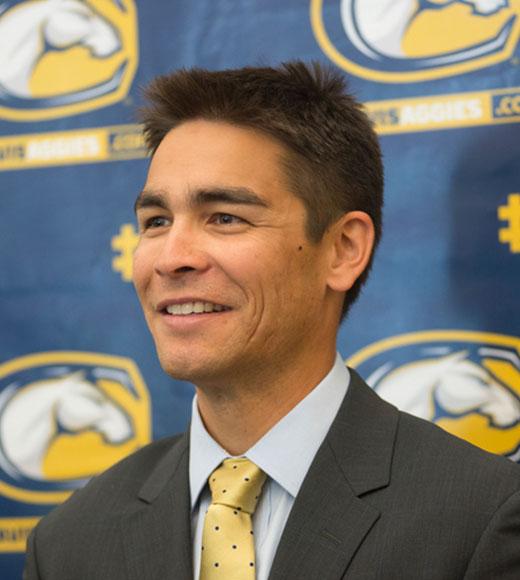 Position Title

Director of Intercollegiate Athletics
Bio
Blue, who was an Academic All-American golfer at Stanford, earned his bachelor's degree from the university before receiving his Ph.D. in sports psychology from Michigan State. He also studied at the Stanford University Graduate School of Business. Besides athletics administration, his diverse background includes serving as an adjunct professor teaching business strategy and sports psychology courses at the undergraduate and graduate levels. Blue's time in the classroom reflects his focus on education as part of his intercollegiate athletics leadership philosophy.
Blue led a transformation of Stanford's sales and marketing capabilities driven by an innovative approach that included a reverse-auction dynamic ticket pricing system and an auto-renew program for football season tickets.
Additionally, Blue initiated online ticket banking, a plan to transition season tickets to an annual membership and has overseen changes to sales operations. He also developed an innovative virtual reality pitch for Heisman Trophy voters.
As a fundraiser, he established and successfully engaged an advisory committee of accomplished executives from the Silicon Valley technology community. Blue also oversaw the creation and execution of a comprehensive brand management and strategic communications plan for Stanford Athletics, raising the university's athletics profile and strengthening its brand.
Blue was team captain and Academic All-American for the Stanford men's golf team before earning his bachelor's degree in psychology in 2005. He went on to earn his Ph.D. in psychosocial aspects of sports (sports psychology) from the highly ranked Graduate School of Education at Michigan State. He later studied at the Stanford University Graduate School of Business (Summer Institute for General Management).
Blue is an avid outdoor athlete, having completed an Ironman distance triathlon in just over 11 hours, and has a personal-best marathon time of 3:04.16. He is also a three-time defending Stanford Golf Club champion.
Tags