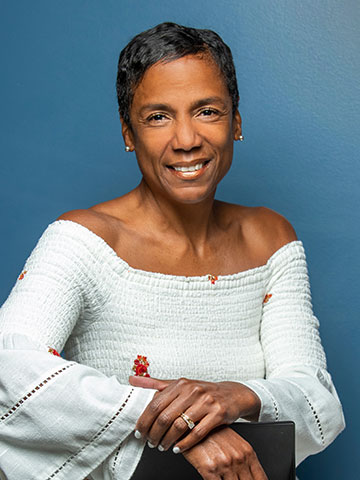 LeShelle May, the wife of UC Davis Chancellor Gary May, is a highly accomplished computer engineer recognized for her leadership and innovation in the development of software and web applications.
May led a distinguished 21-year career at CNN headquarters in Atlanta as a senior software manager and developer, and she continues to work as a senior technical lead for the news organization.
She headed several projects that advanced the cable network's news initiatives, including the CNNgo app, which enables online viewers to watch live news coverage and scroll back to see what they missed. She also developed a video content management system that instantaneously delivers stories to hundreds of newsrooms worldwide. The pioneering system, known today as MS2, won CNN a Technology & Engineering Emmy Award in 2000. The Smithsonian Institute in Washington, D.C. twice honored her with its Computerworld Smithsonian award for her outstanding work at the broadcast company.
Before joining CNN, May worked as a software consultant for Indus International, a manufacturer of electronic document management systems. She launched her career in 1990 at the former BellSouth Corp. telecommunications company in Atlanta where she created software programs for optimizing fiber optic networks.
A native of New York City, May earned her B.S. in electrical engineering from Boston University, where she was chapter president of the National Society of Black Engineers. She received her M.S. in operations research from the Georgia Institute of Technology and has served as a leader of the Georgia Tech Alumni Association, including its student mentoring program.
May is an avid runner and cyclist and enjoys a rich family life with her husband and their two daughters, Simone and Jordan. The couple met in Atlanta while they both tutored inner-city high school students in math.