CHANCELL-ING: A Tribute to What We Can Accomplish … Together
LeShelle and I often say we are grateful to live in Davis. The last two years have only strengthened our pride in our community. After all, UC Davis is a world-class research institution with a healthcare system that serves the broader region, and we saw the power of that in action for the public good.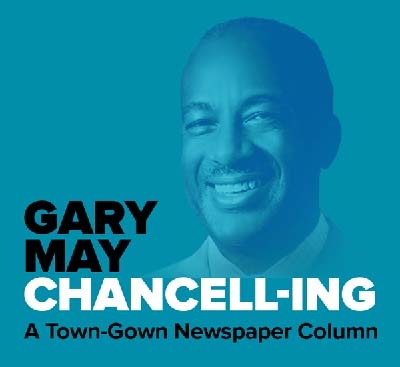 When COVID overtook our world, the renowned UC Davis Genome Center proposed a solution to help prevent the pandemic from growing worse in our region. That led to university and community leaders joining forces, and local and campus communities committing to participate in that effort.  
Through the success of Healthy Davis Together, we showed the world what kind of impact a strong town-gown relationship can have in the face of immense challenges. We worked together like never before, harnessing our collective strengths and emerging as a role model for public health in the age of COVID-19.
As many of you know, Healthy Davis Together ended its public testing program on June 30. This joint program between UC Davis and the city has been a definitive part of our community life since September of 2020. Whether it was at the Veteran's Memorial Center, the ARC on the UC Davis campus, or numerous other sites around town and Yolo County, we were ready to line up and do our part.
We've come a long way
In the fall of 2020, little was known about the virus, except that many people who caught COVID-19 developed serious illness, and many of those people died. There was no vaccine and no at-home tests available. Asymptomatic people could spread the disease without knowing they had it. So, there were few options for communities trying to stay healthy. That was the state of the world when we started Healthy Davis Together.
The numbers tell a story of success as the months went on. Through our combined efforts, we not only prevented the spread of COVID-19, but we also saved lives. Over the course of the program, Healthy Davis Together conducted more than 850,000 COVID-19 tests. (In all, the UC Davis Genome Center has processed more than 2 million tests.) Healthy Davis Together supported more than 50 K–12 schools in Yolo County with testing and education materials. More than 16,000 COVID-19 vaccines were administered as well. 
It's clear that COVID-19 will be with us for some time, so we must remain vigilant. On campus, our UC Davis community will be able to test at a new kiosk inside UC Davis' Human Resources Administration Building starting July 5. Healthy Davis Together will also continue to monitor wastewater and post testing resources on its website.
Countless people pitched in
I want to acknowledge Brad Pollock, chair of the UC Davis Department of Public Health Sciences and HDT project director and Richard Michelmore, director of our Genome Center, who along with his team developed the saliva-based testing that was at the heart of Healthy Davis Together. Ken Burtis, former faculty advisor to the chancellor and provost (and so much more at UC Davis) worked behind the scenes nearly every day during the pandemic to bridge the work of the faculty with HDT. 
Sheri Belafsky from the UC Davis Medical Surveillance Program served as the Medical Director of HDT and leader of HDT's team of health care professionals.
Our Aggie Public Health Ambassadors, most of whom were students, worked diligently to keep our campus safe through their outreach and modeling of healthy behaviors.
Of course, our regional leaders were dedicated and went above and beyond to serve the city of Davis and Yolo County. Davis Mayor Gloria Partida and former Mayor Brett Lee, along with Yolo County Supervisors Don Saylor and Jim Provenza, Supervisor-elect Lucas Frerichs and other leaders kept the momentum moving in the right direction.
I also want to give thanks to the HDT Advisory Committee, co-chaired by UC Davis Executive Vice Chancellor and Provost Mary Croughan and Davis City Manager Mike Webb. The Advisory Committee included students, campus faculty and staff, business, and school and community leaders from a broad spectrum of organizations and associations. They met regularly throughout the pandemic to share updates and outreach efforts. 
We greatly appreciated our discussions with Yolo County Public Health Officer Aimee Sisson (also an Aggie), who worked with us and guided us through our decision-making. 
Last and certainly not least, I want to recognize all the Healthy Davis Together staff who served the public with their expertise but also with patience and kindness. 
Like I said, COVID's variants are still with us. Moving forward, the success of Healthy Davis Together shows we have the capacity to find solutions and make a difference in any challenge we might face. 
Collectively, we have the experience, the creativity — and perhaps most essentially — the compassion to help our community in times of need.
Tags