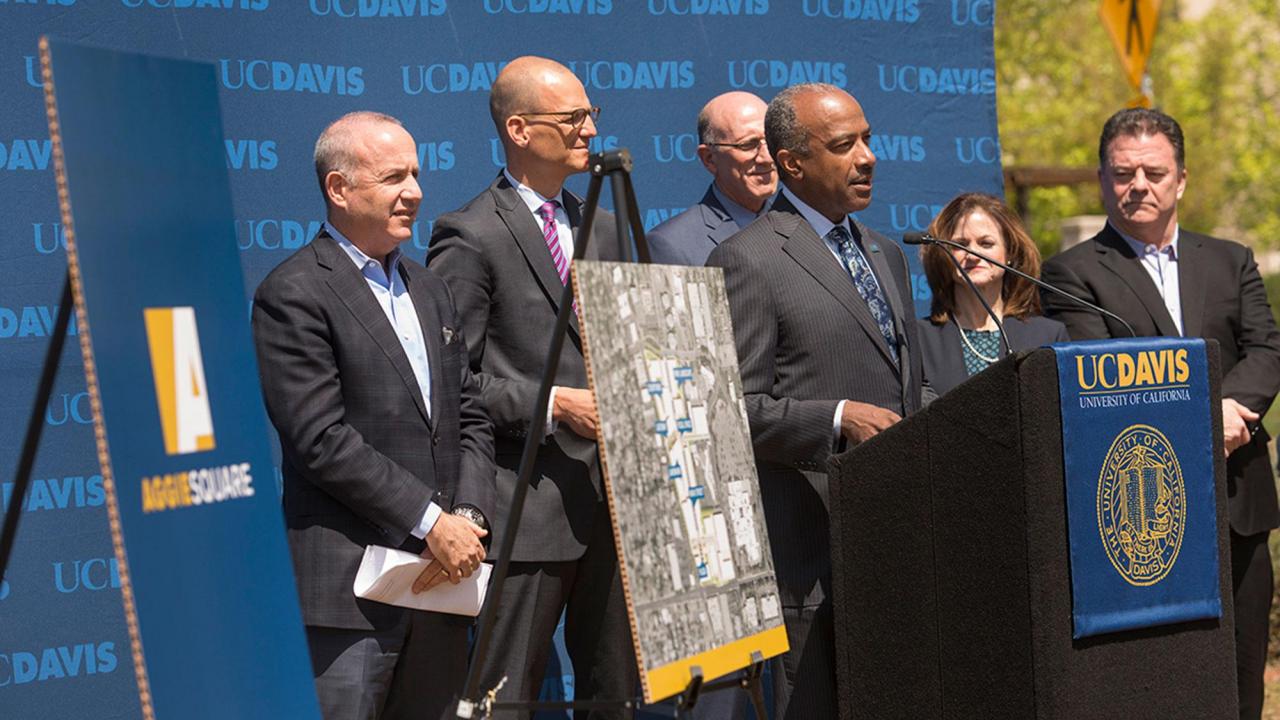 Aggie Square: For Technology, Innovation, Community
Aggie Square will be developed at UC Davis Health, but the project will not be limited to the health enterprise — the new campus will be for all kinds of technology and innovation, a generator of ideas and companies as well as economic growth in the community.
Chancellor May: "Aggie Square will be an extension of the UC Davis campus, one that links our research, our faculty and students with local businesses." (Karin Higgins/UC Davis)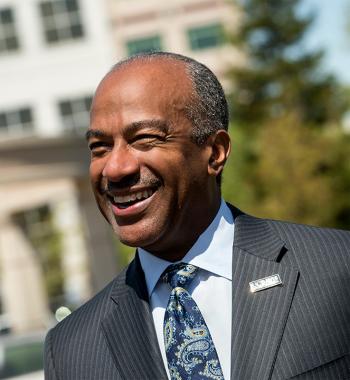 "This is where the region's most talented minds will be able to grow and work together to build a better, smarter Sacramento region — where you will go to find breakthrough talent, breakthrough ideas and breakthrough companies," May said at an April 12 news conference where he and Sacramento Mayor Darrell Steinberg and others announced the location for Aggie Square, a partnership of UC Davis, the city of Sacramento, private industry and others.
This is the project the chancellor has been talking about since before even taking office as chancellor last August. Earlier in the summer, Steinberg and others joined May for a tour of  Atlanta's Technology Square, a similar innovation campus May helped create while serving as dean of the College of Engineering at Georgia Tech. In December, Steinberg and May established a working group to explore sites for a similar concept in Sacramento. This month the group presented four possible locations to May and Steinberg, who ultimately chose the UC Davis Health campus as the home for Aggie Square.
Aggie Square could include incubator or accelerator space, collaborative space for research, academic programs, housing, retail, art and music venues, and more. Its collaborative nature could open up opportunities on both sides: Companies could work with faculty and graduate students to conduct research, and students could have easier access to internships and jobs with the companies located there, May said.
Aggie Square will consist of a variety of components, which could include academic programs, incubator space, retail and more. This rendering shows the area designated for the campus, including a current UC Davis Health office (pictured at the bottom right corner) that could later become part of Aggie Square.
Steinberg said Aggie Square would help Sacramento on three fronts: social equity, inclusive economic growth, and attracting and retaining a skilled work force. 
"As Sacramentans we have the rightful ambition to compete on a global scale and to achieve truly inclusive growth in our communities," he said. "Today's announcement is a huge step toward realizing that ambition."
A small crowd joined the media at the news conference, while about 700 people watched the announcement live on UC Davis' social media pages and nearly 2,500 read about it on the UC Davis website.
Next steps include identifying funding
Now that Aggie Square has a home, organizers plan to focus on funding and planning the specifics.
In Atlanta, Technology Square was almost entirely funded by bonds backed by the Georgia Tech Foundation. A similar approach could work here, according to the report by the Aggie Square Working Group, which suggests bonds paid by revenue from leasing space at Aggie Square as one potential option. 
Some funding for the planning process could come from the state — Assemblymember Kevin McCarty (D-Sacramento) said at Thursday's announcement that he will work to include "a couple million dollars" in the state budget for Aggie Square's next steps. Some funding could also come from the city of Sacramento's economic development resources, Steinberg said.
Other possible funding sources include grants, and public-private partnerships like UC Davis West Village. UC Davis does not anticipate funding the construction of Aggie Square, but private funding could come easily: Eight private companies already lease lab and office space at UC Davis Health, and there are more that want to move in but can't because of space constraints, the report says.
A key consideration of the working group was the likelihood of the location to draw companies to locate nearby, and privately owned land near UC Davis Health could be an ideal home for some companies, according to the report.
Equity and inclusion in Oak Park
Innovation isn't the only focus of Aggie Square — equity and inclusion are also important factors named in the report. Done well, the UC Davis Health site in Oak Park "includes the local community in the success of the center" through public space and increased economic activity, according to the report, which identifies more than 30 stakeholders near UC Davis Health that could be connected through the project.
Mayor Steinberg: "As we grow a dynamic economy and take advantage of all our institutions and assets, that growth must be tied to our neighborhoods, our communities — especially communities of color — and our kids." (Chanae Allred/UC Davis)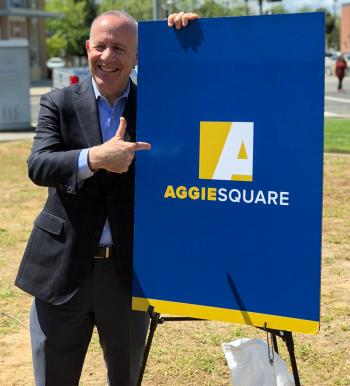 "This is equity not just for our community," said Joany Titherington, president of the Oak Park Neighborhood Association. "It helps to level the playing field for everyone else in Sacramento as well."
Once Aggie Square is up and running, many people could be traveling between it and the Davis campus. Today, 15 round-trip shuttles travel between UC Davis and UC Davis Health, but that could grow. The city of Sacramento and Sacramento Regional Transit are hoping to add electric-powered shuttles between UC Davis, downtown Sacramento and UC Davis Health, seeking funding from state gas tax revenue and Electrify America, the Volkswagen subsidiary planning to invest $800 million in zero-emission transportation infrastructure and education in California alone.
The Aggie Square Working Group, which included representatives from UC Davis, the city of Sacramento, the Greater Sacramento Economic Council, the Greater Sacramento Urban League and the Sacramento Area Council of Governments, examined four potential sites for Aggie Square but did not make a recommendation.
May and Steinberg ultimately chose the UC Davis Health location over North Natomas, a downtown and riverfront area in Sacramento including the old railyard (now being redeveloped), and the Sacramento Center for Innovation Specific Plan south of California State University, Sacramento, but are keeping those options open for potential consideration of future expansions of Aggie Square.
Tags